Chicken Enchiladas~chicken breast/thigh recipe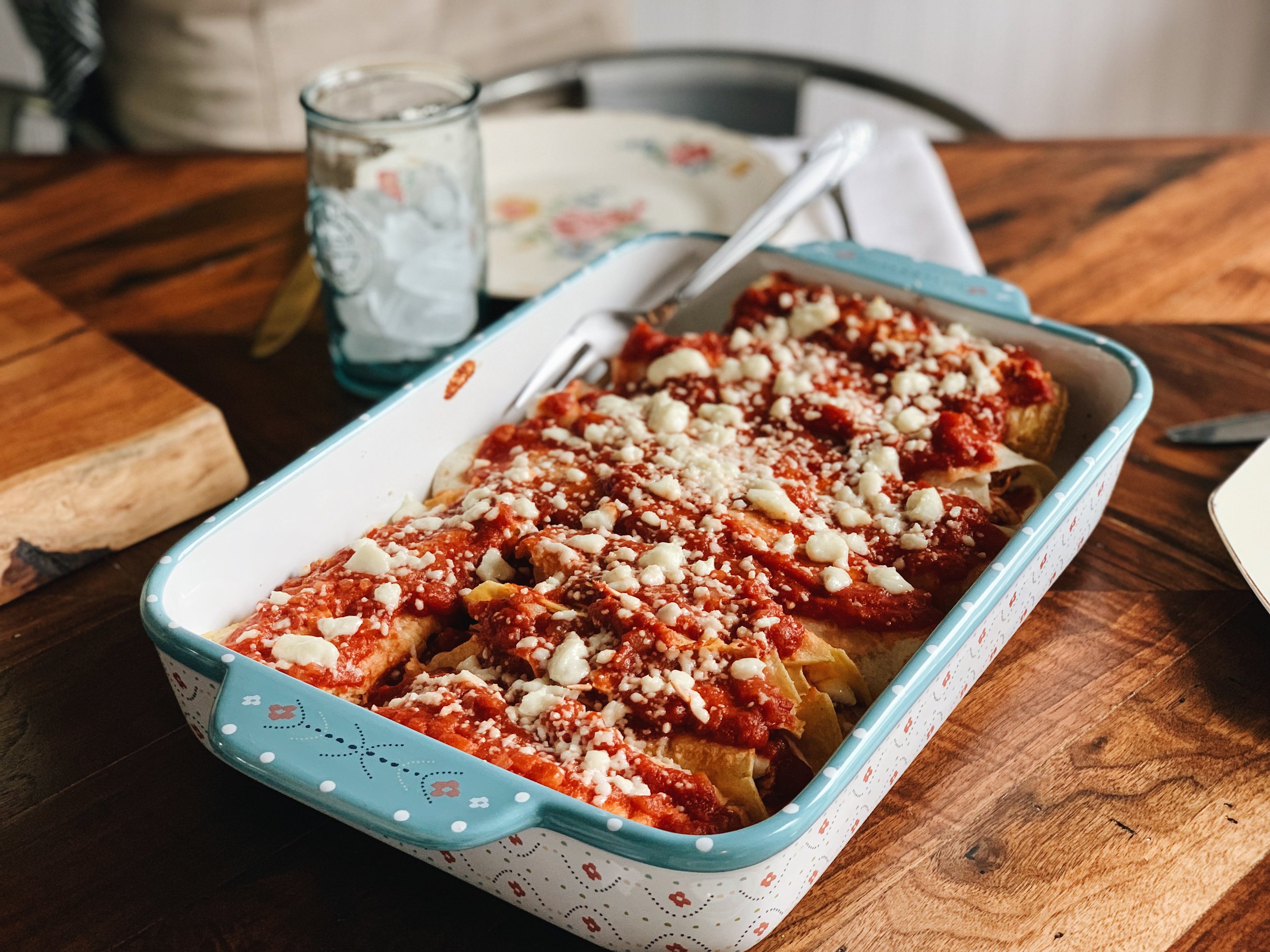 prep time: 40 mins
cook time:10 mins
total time: 50 mins
Chicken enchiladas are something I make when I want people to think I'm fancy… like how many times do you hear homemade enchiladas? Rarely. This recipe will make you sound fancy, and your friends will drool over them! When I was young, we had some hispanic friends named Lupe and Rachael, and that is where I first had authentic mexican homemade enchiladas. I'm talking the best little pockets of goodness you can imagine on fresh homemade corn tortillas, and little small, 7 year old me could put those bad boys AWAY! Fast forward a bit to middle school, and my Mom found a recipe for enchiladas that was good….but not Rachael good. Fast forward to last year when one of my customers, turned good friend Emerald, came to my house and taught me how to make truly authentic chicken enchiladas. I'm talking 2 different types of homemade fresh salsas, fresh tortillas, the whole nine yards, and I got to once again experience some Rachael level goodness! Now…before you get crazy excited or terrified that this recipe is going to be too hard, FEAR NOT….this is a combination of my Mom's recipe, and some tips I got from Emerald. It's super easy and very tasty! It's definitely not a truly authentic enchilada, but it is similar to what you would find in an American Mexican restaurant, and when I want a quick enchilada, it does the trick! The main tip is, corn tortillas are always better, and if you don't have time to make your own(I rarely do), the ones from the store are probably the most fragile thing on earth! This recipes calls for them to get baked for a short period of time, and while I really like how soft that makes the tortillas, the corn ones will literally disintegrate…they won't be pretty…in the slightest! Now if you're like me and don't care about looks and want them baked, go ahead and follow the recipe. If you want them to stay together, assemble them with the chicken and sauce hot, and eat them fresh without baking! They will still taste delicious I promise! For pretty baked enchiladas, use flour tortillas. Let's get to it!
You'll need:
2-4 chicken breasts (depends on size)
2 cups chicken broth
1 can tomato paste
Olive oil
1 onion
1 tsp of garlic powder
1 tsp of cumin
1 TBS red wine vinegar
Queso Fresco cheese
Tortillas of your choice
To make the sauce, start by sautéing one chopped onion in a little olive oil over medium heat. Once the onion has softened, add in the garlic powder. Stir it in the chicken broth and bring to a boil. Once it's begun to boil, add in the cumin and vinegar. Next, mix in the tomato paste, and let it simmer for at least 30 minutes.
While making the sauce, go ahead and boil your chicken. Once its cooked through, shred it and place in a bowl and mix in a little bit of your sauce to "wet" the chicken. This will make enough sauce to cover a 9x13 pans worth of enchiladas, so if you need more than that go ahead and double the amount of sauce!
If you've never used queso, you may be just as surprised as my sister was(my camera woman) at the fact that you don't shred it, it crumbles in your hands! Its delicious and can be found in pretty much any grocery store! Crumble it up and set aside to use.
To assemble your enchiladas, layer sour cream, salsa, chicken, and cheese and then roll up your tortilla. This is the part where if you're using corn tortillas, you may just want to top with extra sauce, cheese, lettuce and dig in! If using flour tortillas, or you just don't mind enchiladas that fall apart, continue on!
Place your rolled up enchiladas in a 9x13 pan and then top with the remainder of the sauce and sprinkle cheese on top. Bake for about 10 mins at 350 degrees to soften the cheese. Serve while hot and top with fresh lettuce, cilantro, or sour cream! This is a dish that isn't that great heated, so if you have leftover chicken or sauce, store in your refrigerator and assemble more when you're ready to eat them! Enjoy friends!